Power washing Jacksonville NC
Want power washing quotes or pressure washing Jacksonville NC?
Our pressure washing professionals offer affordable, reliable services to help your home and business sparkle!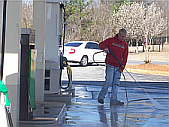 There's no doubt that neat, clean surroundings make people feel good and draws them.
Jacksonville Commercial & Industrial Pressure Washing
Give your North Carolina business an "edge" by allowing us to the opportunity to powerwash your driveway.
Let us show you how pressure washing your facility will give it the professional look that draws customers to your business.
Among the commercial services we offer are:
Apartments and Office Buildings
Gas Stations
Parking Lots and Garages
Storefronts and Sidewalks
Commercial Fleet Cleaning
Graffiti Removal
Trash Bin area cleanup and Drive-Thru Pads
High-Pressure steam cleaning (when powerwashing alone is not enough)
Property Maintenance (picture)
Residential services for your home
JSC Pressure Washing offers a wide variety of residential exterior cleaning and pressure wash services. We tackle these challenges and many more:
House exteriors
Driveways
Sidewalks, porches and patios
Pool decks
Fences
Deck Restoration
Jacksonville NC House Washing:
Using our equipment and cleaners will restore, beautify and protect the life and value of your home.
We safely remove mildew, dirt and oxidation. (After cleaning your home, we suggest a polymer based wax sealant for added protection and longer lasting results.)
Remember that clean walls, driveways and walkways give your home that special "curb appeal" that not only make your home beautiful now but make it easier for your home to sell when you list it with a real estate agency. In this recession, "curb appeal" can make the difference between whether you sell your home… or not.
Concrete Cleaning:
By using our system and the right cleaners, we are able to make your concrete look almost new again.
Gutter Cleaning:
We suggest having your gutters cleaned twice a year to prevent water problems.
Deck, Fence and Gazebo Cleaning:
Power wash before staining a deck, fence or gazebo to start with a fresh surface. We can stain and seal those for you if requested.
Car, Boat, RV and Airplane Cleaning:
Power washing gives almost any surface a face lift.
Will our Jacksonville Pressure Washing & Power Washing Services Really Make That Much Of A Difference?
You be the judge.
As you look at this picture you can see for yourself what pressure washing can do for your businesses sidewalks.
Why not contact us now to schedule a free estimate for your power washing & pressure washing in Jacksonville North Carolina ?
Jacksonville is located in Onslow County. It has a population of 70,145 people, making it the 14th largest city in North Carolina according to the 2010 US census. be sure to visit:
Lejeune Memorial Gardens

Riverwalk Park

Museum of the Marine Reflection Park

Onslow County Parks: Oakhurst Landing and Nature Trail

Zing Zumm, Children's Museum
Locations served: