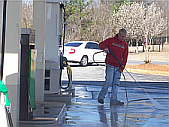 McDonough COMMERCIAL & INDUSTRIAL Power Washing
There's no doubt that neat, clean surroundings make people feel good and draws them.
Give your business an "edge" by allowing us to the opportunity to powerwash your property.
Let us show you how pressure washing your facility will give it the professional look that draws customers to your business.
Among the commercial services we offer are:
Gas Stations
Parking Lots and Garages
Storefronts and Sidewalks
Commercial Fleet Cleaning
Graffiti Removal
Trash Bin area cleanup and Drive-Thru Pads
Property Maintenance  (picture)
Apartments and Office Buildings (Max. 2 Stories)
Will Commercial Power Washing Really Make That Much Of A Difference?
You be the judge.
As you look at this picture you can see for yourself what pressure washing can do for your businesses sidewalks.
Why not contact us now to schedule a free estimate for your Atlanta commercial power washing ?
Call us at:
678-632-4317
Learn about our additional McDonough power washing services.